Southern Girls ~ Running Circles Around You
Hey there lovelies, if you read my previous post, you'll know that this is 'Take 2' at my Design Team post for our new Southern Girls Challenge which launched on Thursday last. I'm late as I've been away with the kiddos on a lovely memory making holiday up North. Check out the pics in a previous post. I just couldn't pull together the theme with my previous card, but this time, I love the way the sequins work with my design, so here we go, for all you science geeks out there, I'm hoping you'll love this.
My second attempt at creating for our fabulous 'Circle Embellishments' challenge at
Southern Girls
will be going to my Swedish bestie's boy, who is 2 weeks older than Georgie and turns 13 in a few days. I thought a geek chic design might be a fun option. I recently picked up a couple more of the fabulous Kaleidacolor Ink pads. I tried a mixed ink pad recently which didn't have the separation of the individual colours and I was so disappointed, as all the inks bled together completely ruining the 'separate' colours. So when I saw recently saw them on special, I grabbed a few new colour combos. Our lovely sponsor Krafter's Cart has some of the other
Tsukineko Inks
, (which I'm a huge fan of) and I'm hoping they'll get some Kaleidacolor too! Fingers crossed. I might have to sweet talk Meetu, hehe.
I've used a fun MFT stamp set to create this card. It's a geek chic chemistry inspired set called
Undeniable Chemistry
. I love the sentiments that came with this, there were some really brilliant chemistry puns. (Those who know me well, will know how much I dislike twee and contrived puns on cards, but seriously, these are clever and really work!) I chose 'Our Bond Can't Be Broken' for this card, as we have such a special friendship with our Swedish besties and this sentiment was a perfect fit for their eldest boys birthday card. Now I just have to think of a really cool teen boy pressie!
I used the same ink pad to ink up the paper that I stamped the sentiment onto, man this took ages to dry, next time, I think I'll just use my copics! But I do like the marbled effect of the multicoloured ink pad on this sentiment strip. I white heat embossed the sentiment after dusting it with anti-static powder.
The final trick was to add the circle embellishments. I chose a circular design with the aperture windows, to hat-tip the theme, the circles were cut with a double cut stitched circle die like this MFT one you can find at
Krafter's Cart
. But of course I needed to actually add circular embellishments. What I love about the sequins I used, is that they are circular on the outside, but the inner design of the sequin is actually a hexagon. Which is very chemistry oriented. So I think they are the perfect circular embellies for this creation. I only used 3 round sequins, but I think they work a treat on this design and then I added some tiny star sequins to finish off the design.
I used yellow foam to pop up the panel, which you can see a sneaky peek of here. Not visible from the front, but I do wish I'd had some white foam, as it does show through at this angle. I also popped up the base layer with foam, for extra dimension. I love the way this looks, I think it adds an extra level of chic. I finished the front panel by diecutting it with a
Whimsy Stamps
Hand Stitched Nested Rectangles
die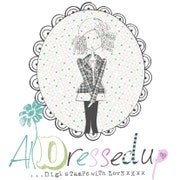 I hope you'll come and join the fun with us and show us your interpretation of our theme 'Circle Embellishments'. It's always so fun to see how others interpret the theme. We have some truly fabulous sponsors this year. Usually two sponsors per challenge, this fortnight it is our generous New Zealand based craft store 'Krafter's Cart' and our International sponsor is 'All Dressed Up' stamps.
How lucky are we?! So get your craft on and come and play along. Do pop by the Southern Girls Challenge to see what my talented teamies have been up to. They're full of awesome ideas, so you're sure to leave feeling inspired! I'll be back soon with a new crafty adventure, until then, have an awesome week and do something you love everyday. Hugs, Wends xoxo
As You Like It
: Favourite Die (I've used my Lil' Inker's Stitched Circles die for this and I use it loads for matting and circle designs. It's my favourite circle die.